Improve Your Guitar Technique!
Compositions as a Gift 
Do You Prefer the Extroaordinary or the Mundane?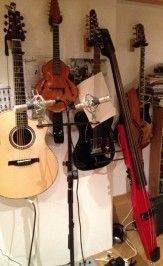 Do you want a truly unique gift for a special person or event in your life; a wedding, anniversary or birthday present? Or you would like to commemorate a departed loved one (as I did when I wrote Remembering). Are you looking for the extraordinary rather than the mundane?  Commission me to write a piece of instrumental guitar music with a title relevant to them, perhaps their name, nickname (as in Ria's Tune or Mrs Mackerel's Wedding), or referring to a life event, or a title that only you and your gift's recipient will understand. It'll be the gift they'll never forget!
The Composition Process
The start of the composition process is finding out as much as possible about the recipient of the gift as you can tell me - age, occupation interests, significant life events etc.  and, if possible, a picture. I shall then start working on the piece and get back to you with a rough idea to see if you like it. Once you are happy with the basic theme I shall complete the piece, professionally record it and present you with a CD and a copy of the music (with guitar tab if required) signed by me which you can give as a unique present. As everything I compose will be used in my performances, released on iTunes and my next CD, I shall not be content with second best so you are guaranteed a professional product.  
Putting Words To Music 
Have you written the words for a song or a poem that expresses how you feel about someone that will sound even better put to music? I tend not to write my own lyrics so I am always happy to work with lyricists to produce a song. 
How Much Will it Cost?
You will find websites  that offer a very cheap service, but in this, as in any product, you only get what you pay for. This is a bespoke service, and the cost will vary according to the complexity of the finished product. The length, how many and what instruments are used will all affect the cost. The least expensive option will be a solo guitar instrumental but if you are able to spend more I can create a multi-instrumental piece and can arrange for the  necessary musicians to record. But how can you put a price on the unique?